THIS IS A UNIQUE CHANCE TO TAKE PART IN MAKING HISTORY!
This is a very exciting venture.  We have to raise £300,000 to keep the sound of church bells ringing over central Cheltenham – the town deserves the best we can get.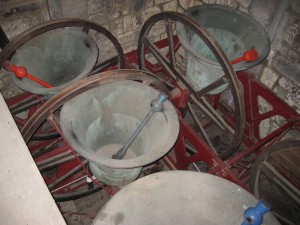 The old bells are challenging to ring, and hard to maintain. We will make the new ones a delight to listen to and easier to ring.  The extra thirteenth bell (a sharp 2nd) will mean that there will be a musical octave that will be lighter in weight to make them more suitable for teaching.  They will also be simpler to maintain.
In 2013 the parish church was raised to minster status by the diocese of Gloucester, reflecting its pastoral and architectural significance to the town and surrounding area.
There would certainly have been bells at an early stage of the church's history but there is little recorded detail of them. The present bells date from the 1823 installation of a heavy peal of eight bells. The bells were augmented to ten in 1833. This hanging work seems to have left a lot to be desired and the peal was rehung and the second and fourth recast in 1883. The installation in its present form dates from 1911 when two further trebles were added and another of the original eight was recast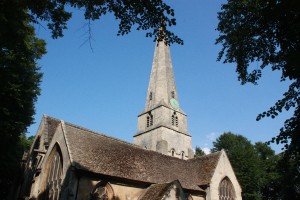 The fact that three out of the ten of the original bells were recast within a few decades suggests that the quality of the castings was not very good
Give the current state of the bells and their fittings, we now need to make some major decisions about the future of the bells.  We have decided the right thing to do for the benefit of future generations is to replace all the bells, installing them in a new frame and adding an extra bell.
We are delighted to say that we have received a donation from the Gloucestershire Historic Churches Trust for £10,000.  They have pledged the Treble bell (the lightest) bell.  We are also pleased to say that the Friends of the Minster have pledged the Tenor bell (the heaviest), so we now have nine of the 13 new bells pledged.
Please help with our Appeal. If you would like to donate to this exciting event please click here – every donation will be gratefully received, no matter how large or small.